2007 Alabama Relays
Hosted by The University of Alabama
Held at Sam Bailey Track Complex in Tuscaloosa, AL on March 22-25, 2007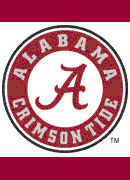 Entries are closed.

Click below on the DA logo to go to online meet entry site.

ATTENTION: All unattached athletes wishing to enter the meet must do so by going through Direct Athletics.

Women's events questions: Sydney Cartwright, Assistant Womenís Coach- scartwright@ia.ua.edu

Men's events questions: Rod Tiffin, Assistant Menís Coach- rtiffin@ia.ua.edu

Unattached entries fee is $25.00 for unlimited entries for Saturday events only. There are no relay events on Sunday for unattached athletes. Only field events.
© Copy Right by C.F.P.I. Incorporated, All Rights Reserved, 1999-2007. No material on any pages may be reused in any form without written permission of C.F.P.I. Timing & Data, Inc. All laws applicable apply.