Virginia Tech University Last Chance Meet
Hosted by Virginia Tech University
Held in Blacksburg, Virginia in Rector Field House on March 4, 2006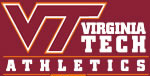 Click below on the DA logo to go to online entry site.

ATTENTION: All unattached athletes wishing to enter the meet must do so by going through the VT coaching staff only.

Unattached athletes should fax or e-mail their name, seed time, distance or height and affiliation to Coach Cianelli (dcianell@vt.edu) or Cleopatra Borel-Brown (cborel@vt.edu)

CFPI will not accept any unattached athletes directly into the meet.
© Copy Right by C.F.P.I. Incorporated, All Rights Reserved, 1999-2006. No material on any pages may be reused in any form without written permission of C.F.P.I. Timing & Data, Inc. All laws applicable apply.